Are you overwhelmed by the "How do I get to Hakuba" puzzle?
Don't sweat it – you're not alone. Sorting through mounds of confusing info can make anyone's head spin. Not to fret; you're in good hands. I've spent over seven years untangling this web, helping folks like you get to Hakuba without breaking a sweat. If you're after a straightforward, no-nonsense guide penned by someone who's been there, done that, and helped countless others do the same, you're in the right place.
Let's make getting from Narita to Hakuba the easiest part of your journey!
Narita to Hakuba
Here are the top 4 ways of getting to Hakuba from Narita Airport.
Snow Shuttle
Highway Bus
Train
Private Taxi
1. Snow Shuttle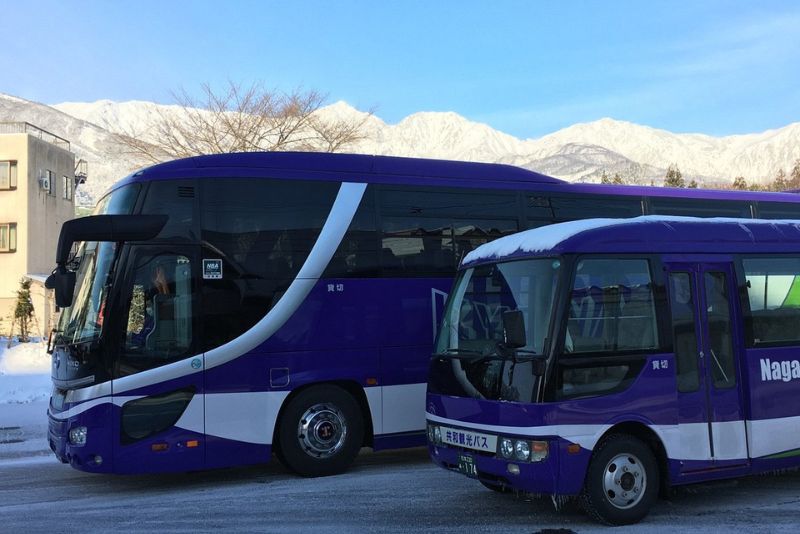 The snow shuttles are the easiest and most convenient way of getting to Hakuba. They pick you up directly from Narita airport. Your luggage is stowed under the bus; hop on, and you are off!
Nagano Snow Shuttle
Operating Dates: Dec 21, 2023 – Mar 10 2024
Duration: 5 – 6 Hours
Cost Adults: ¥10,500
Cost Child: ¥12,250
The Nagano Snow Shuttle operates from December 21st to March 10th and is popular among travelers. It offers direct and comfortable transportation from Tokyo Narita airport to Hakuba. The buses are equipped with free wifi, power outlets, and toilets for your convenience. The bus takes your bags, so there is no need to worry about hauling them around. The shuttle also drops you off at your Hakuba hotel.
Alpico Snow Shuttle
Operating Dates: Dec 23, 2023 – Mar 9, 2024
Duration: 6 – 7 Hours
Cost Adults: ¥13,000
Cost Child: ¥11,000
Like the Nagano Snow Shuttle, it provides dependable service but only leaves once daily. The Alpico shuttle drops off at all the resorts in the valley, the Hakuba train station, and the Happo bus terminal.
2. Highway Bus
 Narita – Shinjuku Expressway Bus Terminal – Nagano – Hakuba
Duration: 8 – 9 hours
Cost: ¥4,000 to ¥6,000
You must make a few transfers to take a highway bus from Narita to Hakuba. First, take the Narita Express train from Narita Airport rail terminal to Shinjuku Station. Then, head to the Shinjuku Expressway Bus Terminal (in front of Yoyogi Park) and purchase a ticket for Nagano station. Once you arrive in Nagano, transfer to the local bus to Hakuba.
One of the benefits of taking a highway bus is that it is usually less expensive than other transportation options. However, it does require more transfers. Use Google Maps to plan your trip.
3. Train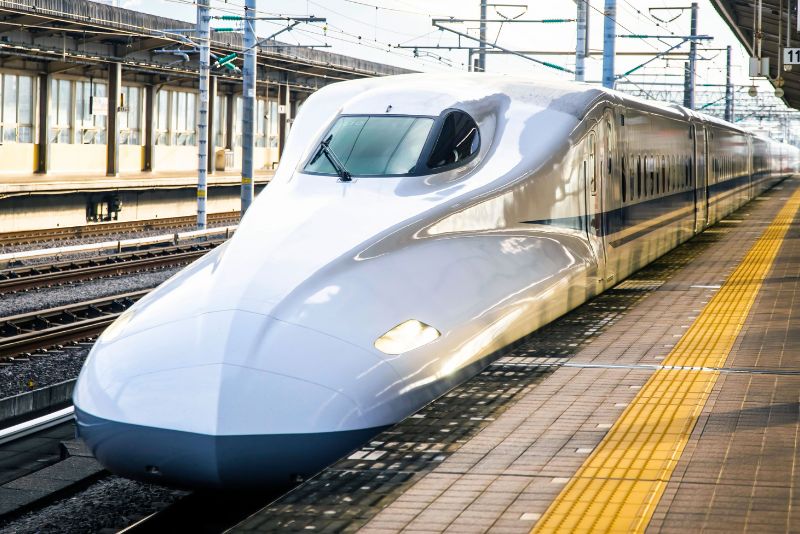 Bullet Train & Bus
Narita – Tokyo Station – Nagano Station – Hakuba
Duration: 3 – 4 hours
Cost: ¥11,000 – ¥12,000
Are you prioritizing speed and efficiency? The bullet train and bus combination is ideal. Take the Narita Express to Tokyo Station, transfer to the Hokuriku Shinkansen (Nagano bullet train) to Nagano Station, and then catch a bus to Hakuba Station. This route provides a blend of high-speed rail travel and the convenience of a bus connection. Use Google Maps for the schedule.
With the added transfers, I recommend shipping your bags from the airport.
 Azusa Express
Narita – Shinjuku – Hakuba
Duration: 5 – 6 hours
Cost: ¥11,000 – ¥12,000
An alternative train route is the Azusa Express. Travel from Narita to Shinjuku Station and transfer to the Azusa Express, which takes you directly to Hakuba. This option offers a mix of train and bus travel, providing a different perspective of the Japanese countryside. The Azusa Express is also a popular option for those traveling from the city, as it takes you directly to Hakuba without any additional transfers.
4. Chuo Taxi Service
Duration: 4 -5 hours
Cost: ¥82,000
Occupancy: 1 – 4ppl
For personalized and door-to-door service, Chuo Taxi offers a private taxi service. When you book online, you let them know your flight number, and they will pick you up from the airport. If your flight is delayed, they will even wait for you.
This is the best option if your flight arrives late or at night because they offer a 24-hour service and even take your bags.
 Renting a Car in Japan
If you prefer the freedom to explore at your own pace, renting a car in Japan is a viable option. If you rent a car, ensure it has winter tires.
 Rental Car Companies
Nissan Rent-A-Car
Toyota Rent-a-Car
Times Car Rental
Budget Rent-A-Car
 Requirements for Non-Japanese Drivers
Before renting a car, ensure you meet the following requirements:
Valid International Driving Permit (IDP): Required
Age Requirement: Typically 18 or 21 years old
Reservation: Recommended
Japan Rail Pass
Are you planning to explore more of Japan beyond Hakuba? Consider the Japan Rail Pass, a cost-effective ticket offering unlimited travel on Japan Railways (JR) lines nationwide. This pass grants access to Shinkansen (bullet trains), local trains, buses, and JR ferries.
Key Benefits of the Japan Rail Pass:
Flexibility: Enjoy the freedom to travel at your pace, hopping on and off trains throughout your journey.
Cost Savings: For foreign visitors, the Japan Rail Pass often proves more economical than purchasing individual tickets.
Convenience: Skip the hassle of buying tickets for each journey and breeze through JR gates with the pass.
Conclusion
Choosing the best route from Narita to Hakuba depends on your priorities. Whether it's speed, cost-effectiveness, scenic views, the flexibility of driving, or the convenience of the Japan Rail Pass, Japan offers diverse options for a memorable journey to the snow-covered landscapes of Hakuba.
FAQ
How to get to Hakuba from the airport?
Opt for the Nagano or Alpico Snow Shuttle for a direct and efficient connection from Narita to Hakuba.
How do you get from Tokyo to Hakuba Valley?
There are various ways to get from Tokyo to Hakuba. The Shinkansen is the fastest option, taking approximately 1.5-2 hours to Nagano Station, followed by a bus or train ride to Hakuba. Alternatively, there are direct buses and private taxi services available as well.
Is Haneda or Narita closer to Hakuba?
Narita is closer to Hakuba than Haneda Airport. It takes approximately 4 hours by car or 5 hours by train to reach Hakuba from Narita, while it takes around 6.5 hours by car or 7 hours by train from Haneda to Hakuba. However, both airports offer convenient transportation options to Hakuba.
How do I get to Hakuba, Japan?
Please read our complete guide on how to get to Hakuba to find out all the ways to get here.
Hi there! I'm Mike, I love the mountains and the outdoors. I'm lucky enough to live in Hakuba, Japan where, in the winter you will find me out skiing or snowboarding and in the summer hiking the local mountain peaks.