Approximately 600 thousand injuries occur annually on ski and snowboard trails. Every time you take a ski vacation, you risk getting injured. Without medical coverage, you will have to cover the total cost of any medical emergencies, which can easily blow your ski trip budget.
While travel medical insurance will often cover you in the event of trip cancellations and medical expenses, it rarely covers high-risk activities like skiing and snowboarding.
When you take ski trips, you need to add Ski Travel Insurance. It provides coverage for snow sports, including skiing and snowboarding, for accidents. Additionally, it covers ski rental equipment if it is lost or stolen whenever you are taking ski vacations. Ski insurance will provide medical coverage for injuries incurred from accidents or illnesses while skiing or snowboarding on your ski vacation.
Before Purchasing insurance for your ski vacation, there are some things you should keep in mind:
Skiing and snowboarding cover differs significantly between insurers, especially in how they define off-piste skiing. Always check the PDS to ensure you have the right coverage for your holiday plans.
Think about the coverage you will need for your ski trip. Do you need to consider a potential emergency medical evacuation, trip interruption coverage, or coverage for your sporting equipment? These factors will determine which insurance package is best for your ski vacation.
What Is The Best Ski Travel Insurance?
Here is our ranked and reviewed list of the best ski travel insurance.
The 5 Best Ski Travel Insurance
1) Best Overall Ski Travel Insurance – World Nomads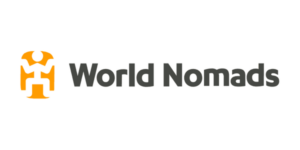 World Nomads travel insurance has been designed specifically for travelers so that you can have peace of mind on your trip. World Nomads can offer you coverage even if you forgot to get travel insurance or didn't think you needed it. They want to keep you and your family safe while traveling. Relax and enjoy your trip, knowing that they've got you covered. Their ski insurance coverage is some of the best available. They have comprehensive coverage for medical emergencies for your ski vacation.
Ski, Snowboard & Winter Sports Coverage
All skiing-related activities require you to add level 3 sports coverage to your travel insurance policy.
Skiing (dry slope)
Skiing (on-piste or off-piste within resort boundaries)
Skiing (terrain park within the resort; excluding acrobatics)
Skiing (cross country / Nordic skiing on marked trails)
Skiing (backcountry/outside of resort boundary alpine ski touring)
Skiing (by helicopter/snow cat)
Ski/Snowboard instructor or guide
Skiing (snowblading)
Guide Requirements
You must ski with a professional, qualified, and licensed guide or operator while skiing backcountry or outside the resort boundary.
2) Best Budget Ski Travel Insurance Tick Travel Insurance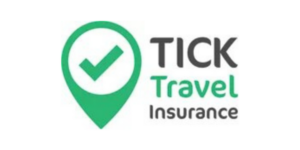 Tick Travel insurance is the best budget ski travel insurance option, providing comprehensive coverage at an affordable price. Whether planning a trip to the Rockies or hitting the slopes in Europe, Tick Travel Insurance offers reliable and efficient service. With 24/7 assistance and wide-ranging coverage options, Tick Travel is your best choice for ski insurance on any budget. You must select this option for winter sports coverage when purchasing your policy.
Ski/Snowboard Activities Covered
Recreational skiing/snowboarding
bigfoot skiing
cat skiing
cross country skiing
glacier skiing
heli-skiing
mono skiing
off-piste skiing (with a professional snow sports instructor/guide only)
recreational ski racing (not training for or participating in a competition)
*Note: In all cases, skiing also means snowboarding
If you ski in the backcountry, you must have a professional ski guide to be covered by the insurance policy.
Backcountry Definition
They have defined backcountry as skiing on ungroomed and unmarked slopes or pistes, including skiing in unmarked or unpatrolled areas either inside or outside a ski resort's boundaries, sometimes in the woods.
Guide Requirements
To ski in these areas, you need a professional ski guide. They have pretty strict requirements for guides as well.
Holder of Level 2 Backcountry security award and the relevant equivalent of this award.
Holder of backcountry and mountain safety qualification is mandatory for level 4 instructors.
3) Best Backcountry Ski Insurance – Insure4Less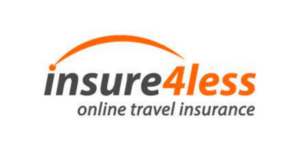 Insure4less has the best coverage for backcountry and touring. You will need to contact them to confirm the availability and price range, but they have the least restricted policies regarding backcountry skiing.
Ski/Snowboard Activities Covered
The following Snow Sports activities are covered, subject to You
having entered the dates that You plan to participate in the snow
sports, and these dates are shown in Your Certificate of Insurance.
Back Country Skiing/Snowboarding*
Skiing Snow (On-Piste)
Skiing (Off-Piste)*
Snowblading
Glacier Skiing
Snow Monoskiing
Snowcat Skiing/Boarding*
Ski Touring *
Snowboarding (On-Piste)
Ski Randonnèe*
Snowboarding (Off-Piste)*
Snow Sports
*: These activities are covered except in the USA and Canada,
subject to you indicating that You require"off-piste" coverage when
taking out your snow sport policy.
Additional Benefits
The Excel Plus plan includes search and rescue coverage.
4) Easiest to Understand Ski Insurance – Insure And Go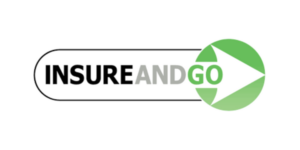 Insure and go's winter insurance policy is quite comprehensive and relatively easy to understand. If you are 65 or under, you can add winter sports coverage to their travel insurance policies. As long as resort management has not identified an area as unsafe, then you are covered.
Ski/Snowboard Activities Covered
Skiing
Snowboarding
Off-piste skiing/snowboarding (except where considered unsafe by resort management)
Cross country skiing
Freestyle skiing
Cat skiing
Heli-skiing
Mono skiing
Recreational/non-professional ski racing or training
Ski acrobatics
Ski bob racing
Ski/snowboard fun parks
Ski stunting
Ski touring with a guide
Requirements
You must always adopt and follow the appropriate and recommended safety precautions when undertaking any winter sport activity, inclusive of, but not limited to, the wearing of a safety helmet.
Guide Requirements
If you are touring outside of a resort, you will require a guide.
5) Best For On Piste Skiing Only – World2Cover
With World2Cover's ski and winter sports insurance, you can finally visit the beautiful frosty places you've always wanted to go without worrying about your level of travel coverage. Whether a beginner or experienced, the additional premium will give you peace of mind knowing you have the right insurance for all your needs.
Ski, Snowboard & Winter Sports Coverage
World2Cover's winter sports insurance covers the following ski-related activities. To be covered, you must be on-piste (or if Off-piste, You are with a professional guide at all times). The policy does not cover backcountry skiing (even if you are with a guide)
Skiing
Snowboarding
Leisure Bigfoot skiing
Cat skiing
Cross-country skiing (along a designated cross-country Ski route only)
Glacier Skiing
Mono skiing
Off-piste skiing (with a professional guide only)
Recreational Ski racing (not training for or participating in a competition)
Recreational Skiing
Off-Piste Definition
Off-piste means any Skiing within a short distance from the designated areas of a ski resort's boundaries on groomed terrain or marked slopes or trails that are open, maintained, monitored, and patrolled by the ski resort.
Backcountry Definition
Skiing in a sparsely inhabited rural region over ungroomed and unmarked slopes (i.e., marked pistes are not present) where fixed mechanical means of ascent are often not present.
Buying Ski Travel Insurance
What does it not cover?
Many insurance policies limit coverage or exclude coverage for:
off-piste skiing
heli-skiing
catskiing
extreme skiing and hucking off cliffs within a resort
parachuting/skydiving
hang-gliding and basically any airborne device that is not a licensed passenger aircraft
Make sure to review the insurance PDS before purchasing. Read the sections on what is and is not covered very carefully. Be sure you understand how the policy defines backcountry skiing.
Cost of Ski Travel Insurance
Prices for ski insurance differ among people, and it depends on various factors depending on what it costs.
Length of policy
Generally, ski travel insurance will only cover your ski holiday; the payment and coverage will expire upon returning home. It's a good choice if your plan only consists of a ski trip a year. Often the family makes several ski trips a year. It is cheaper to have yearly plans. Because of many factors involved in travel insurance costs, people can estimate how much they can afford to pay for skiing travel insurance.
Final Thoughts
Whether going on a skiing vacation for the first time or taking your kids out for a snow day, it's important to have ski travel insurance. This will help protect you from an accident or injury, so you can focus on having fun and enjoying your ski vacation!
Hi there! I'm Mike, I love the mountains and the outdoors. I'm lucky enough to live in Hakuba, Japan where, in the winter you will find me out skiing or snowboarding and in the summer hiking the local mountain peaks.