Looking to get to Hakuba after your flight to Japan. If your flight arrives at Haneda airport, have no fear because getting to Hakuba is easier than you think. With a variety of transportation options available, you'll be hitting the slopes in no time!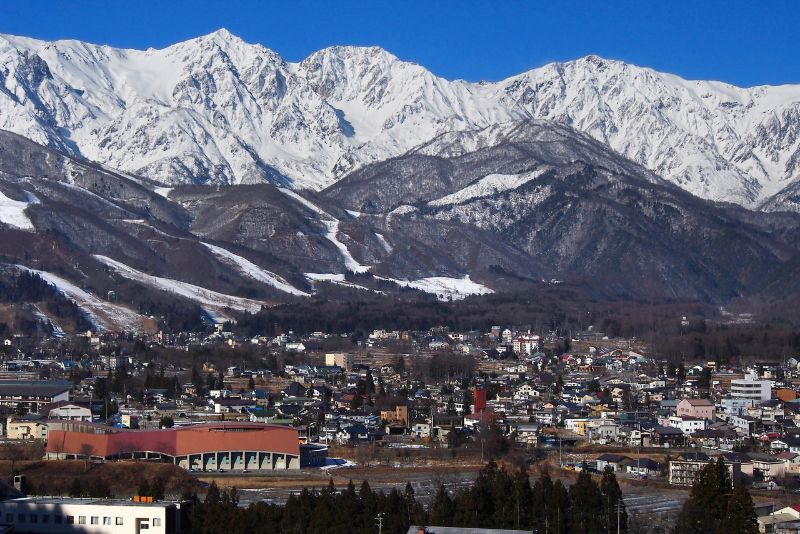 Haneda to Hakuba
Here are the top 4 ways of getting to Hakuba from Haneda Airport.
Snow Shuttle
Highway Bus
Train
Private Taxi
1 – Snow Shuttle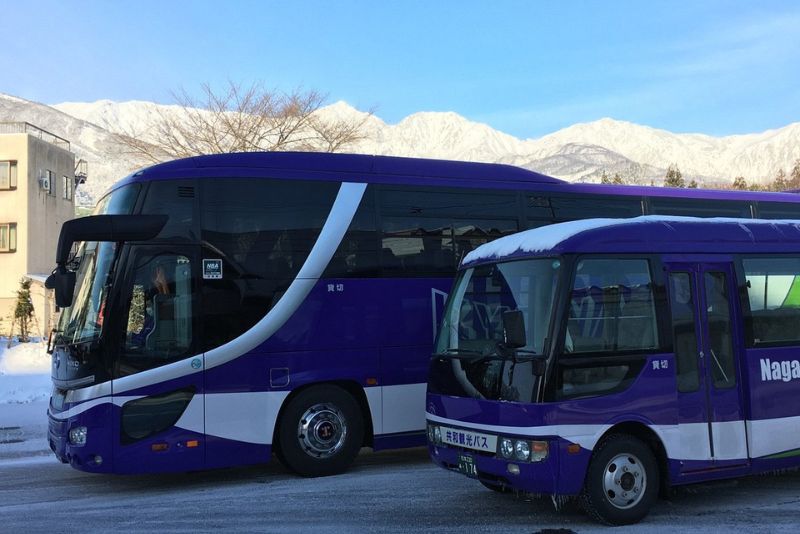 Operating Dates: Dec 21, 2023 – Mar 10 2024
Duration: 6 – 7 Hours
Cost: ¥9,800
The Nagano Snow Shuttle is a popular and convenient option for travelers looking to get from Haneda Airport to Hakuba. The shuttle runs daily during the winter season with 3 departure times from Haneda airport. The shuttle includes free wifi, a restroom on board, and drop-off at major hotels in Hakuba. The best part, your luggage travels with you under the cabin so you don't have to worry about lugging it around.
Alpico Snow Shuttle
Operating Dates: Dec 23, 2023 – Mar 9, 2024
Duration: 5 – 6 Hours
Cost Adult: ¥9,300
Cost Child: ¥7,500
The Alpico Snow Shuttle offers daily trips from Haneda Airport to Hakuba during the winter season. The shuttle provides comfortable seating, free wifi, and a restroom on board. Luggage is also loaded under the cabin for your convenience. The shuttle departs from the airport once per day.
2 – Highway Bus
 Haneda – Shinjuku – Hakuba
Duration: 6 – 7 hours
Cost: ¥10,000 to ¥11,000
To take the highway bus you must get to Shinjuku Expressway Bus Terminal. From the Haneda airport terminal take the Limousine Bus. The journey takes 45 minutes, costs ¥1400, and departs every 10 – 30 minutes. From Shinjuku grab the Alpico Highway bus to Hakuba. Use Google maps to check the schedule and plan your trip.
3 -Train
Bullet Train & Bus
Haneda – Hamamatsucho – Tokyo Station – Nagano Station – Hakuba
Duration: 4 – 5 hours
Cost: ¥13,000 – ¥14,000
Getting to Hakuba from Haneda on the bullet train involves a couple of transfers. From Tokyo Haneda Airport hop on the Tokyo Monorail to Hamamatsucho station. Head from Hamamatsucho to Tokyo Station where you will take the Hokuriku Shinkansen to Nagano Station. From Nagano Station catch the Alpico bus to Hppo Bust Terminal.
 Azusa Express
Haneda – Shinjuku – Hakuba
Duration: 5 – 6 hours
Cost: ¥9,000 – ¥10,000
Another option for getting to Hakuba from Haneda is the Azusa Express train. Take the Airport limousine to Shinjuku station and then head to Hakuba on Limited Express Azusa train. There is one train that travels directly to Hakuba. It leaves at 8:00 AM and arrives at Hakuba station at 11:42 AM.
4 – Chuo Taxi Service
Duration: 4 -5 hours
Cost: ¥19,500
Chuo Taxi offers a private shuttle option for larger groups. The service operates 24 hours, and the Taxi will pick you up with a sign in hand.
Renting a Car in Japan
Renting a car in Japan is an excellent option for those looking to explore different areas and have the freedom to travel at their own pace. However, it is important to keep in mind that driving in Japan can be challenging due to narrow roads, busy traffic, and unfamiliar road signs. Some Japanese car rental companies are:
Nissan Rent-A-Car
Toyota Rent-a-Car
Times Car Rental
Budget Rent-A-Car
 Requirements for Non-Japanese Drivers
Some things to consider before booking a rental car in Japan:
A valid international driver's license
Passport
Age requirement (usually 21 years or older)
Japan Rail Pass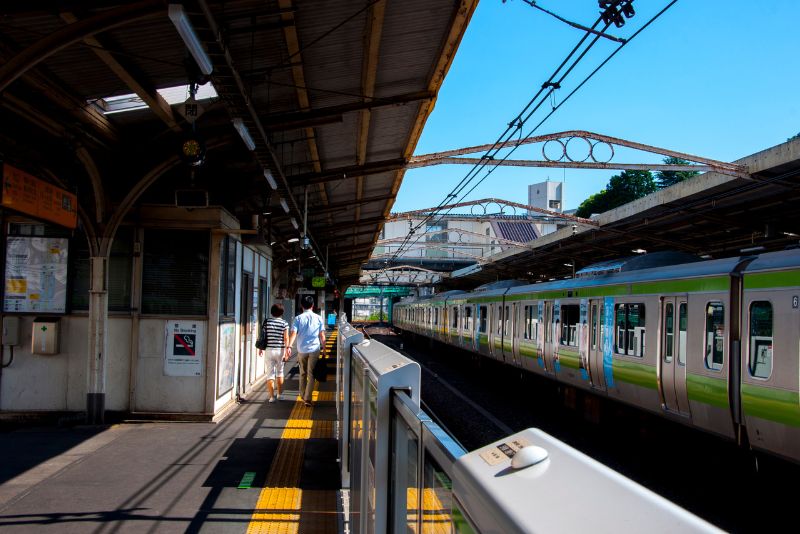 Looking to explore more of Japan beyond Hakuba? Consider the Japan Rail Pass, a cost-effective ticket that allows unlimited travel on Japan Railways (JR) lines nationwide. With this pass, you can enjoy the convenience of hopping on and off Shinkansen (bullet trains), local trains, buses, and JR ferries at your own pace throughout your journey.
Here are some key benefits of the Japan Rail Pass
Flexibility: Experience the freedom to travel according to your own schedule, with the ability to easily hop on and off trains along your route.
Cost Savings: For foreign visitors, the Japan Rail Pass often proves to be a more economical choice compared to purchasing individual tickets for each leg of your journey.
Convenience: Say goodbye to the hassle of buying tickets for every trip. With the Japan Rail Pass, you can breeze through JR gates and save time.
Conclusion
Getting from Haneda to Hakuba is a relatively straightforward journey that can be done by several modes of transportation. Whether you choose to take a shuttle bus, train, or rental car, it's important to consider your budget and travel preferences when making your decision. With the right preparations and knowledge, you can look forward to an unforgettable trip filled with stunning nature, delicious food, and memorable cultural experiences in Hakuba and beyond.
FAQ
Is Haneda or Narita closer to Hakuba?
Both Haneda and Narita airports are located in Tokyo, which is approximately 300 km away from Hakuba. However, the journey from Haneda is slightly shorter.
How to get to Hakuba from the airport?
As mentioned, there are several ways to get from Haneda or Narita airport to Hakuba. One of the most convenient and cost-effective options is the Nagano Snow Shuttle.
How to get from Tokyo to Hakuba Valley?
There are a few transportation options to get from Tokyo to Hakuba Valley, with the most popular being by train or bus. If you're taking the train, you can take the Shinkansen (bullet train) from Tokyo Station to Nagano Station, which takes approximately 90 minutes. From Nagano Station, you'll need to transfer to either a local train or a bus to Hakuba. If you're taking the bus, there are direct buses from Tokyo Station or Shinjuku Station that will take you directly to Hakuba. It's important to note that these options may vary and have different schedules depending on the time of year, so be sure to check ahead of time.
Does Hakuba have a train station?
Yes, Hakuba does have a train station located in the village of Hakuba. It is part of the Oito Line, which runs from Matsumoto to Hakuba and connects to Nagano Station. The station is conveniently located near many hotels and accommodations, making it easy for visitors to access their destinations upon arrival. However, not all trains on the Oito Line are shinkansen (bullet trains), so it's important to check the train schedule and route before planning your trip.
Hi there! I'm Mike, I love the mountains and the outdoors. I'm lucky enough to live in Hakuba, Japan where, in the winter you will find me out skiing or snowboarding and in the summer hiking the local mountain peaks.