Hakuba Iwatake Mountain Resort – Summer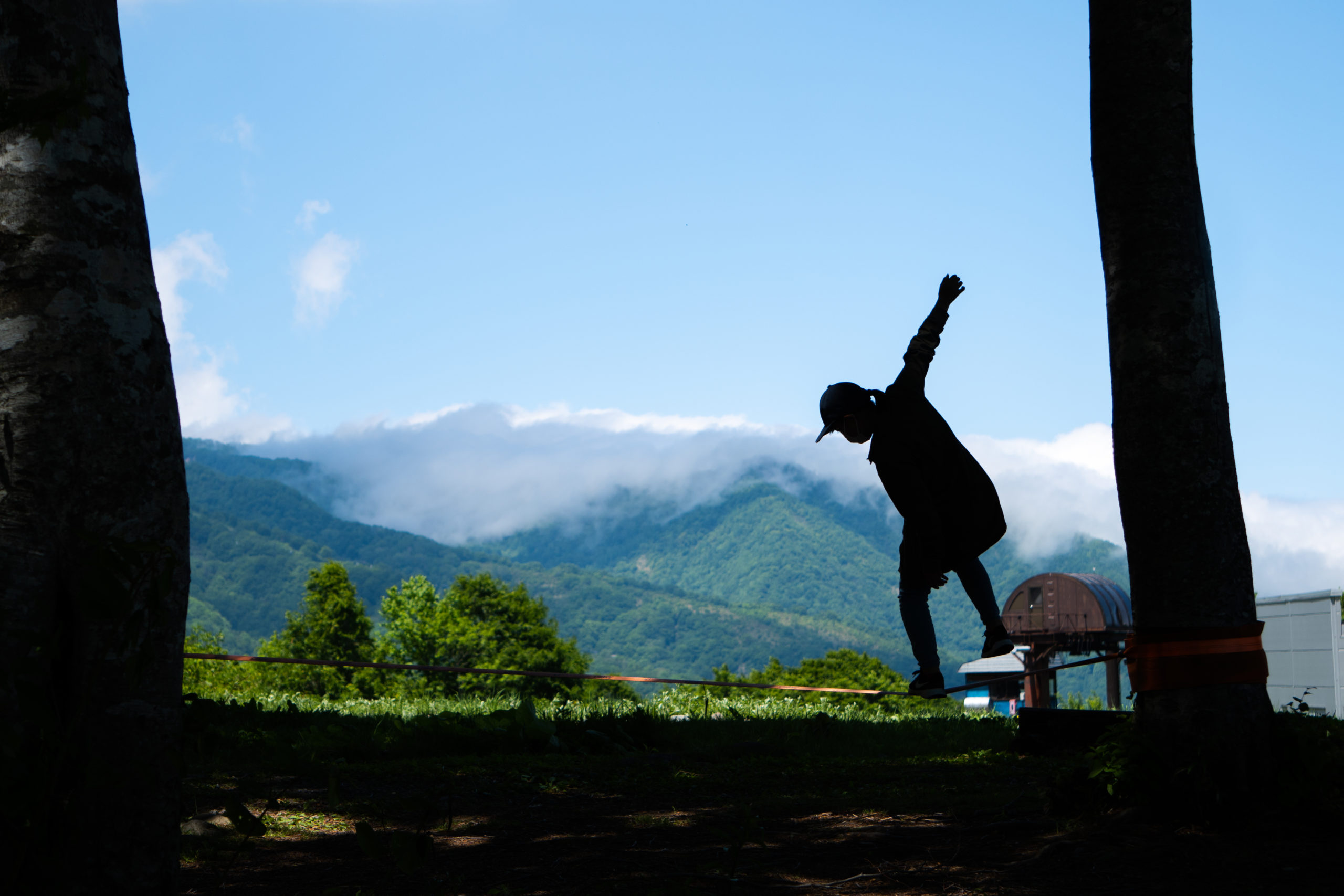 About Iwatake Summer
With sitting areas on the front and back sides, Iwatake Mountain Resort has the best panoramic views in the valley. Lift-accessed mountain biking, slacklining, remote work locations, and family fun activities make Iwatake a highly recommended stop while you are in Hakuba.
Iwatake's Mountain Bike Park offers downhill mountain biking from the top of the gondola, letting you skip those uphill climbs while saving your legs for more downhill laps. Spicey Rentals is located at the base and will get you set up (get 5% off with the discount code EVENTSHAKUBA)  with any gear you may need while Evergreen offers mtb classes and tours.
Shinden is located a 15-minute walk from the base of Iwatake and is a beautiful traditional Japanese area with family-run ryokans and delicious dining options. For a traditional mountain Japan experience, be sure to take a walk down Shinden's historical street, head to the local shrine, and stop at Shoya Maruhachi or Hana Emi Cafe for lunch.

Hakuba Iwatake Summer Activities
Mountain Harbour
Get the feeling of floating as you experience Hakuba's best mountain view from Mountain Harbours' picturesque viewpoint.  Enjoy a treat from the gourmet bakery and indulge in a coffee as you soak in the blue sky and panoramic mountain views.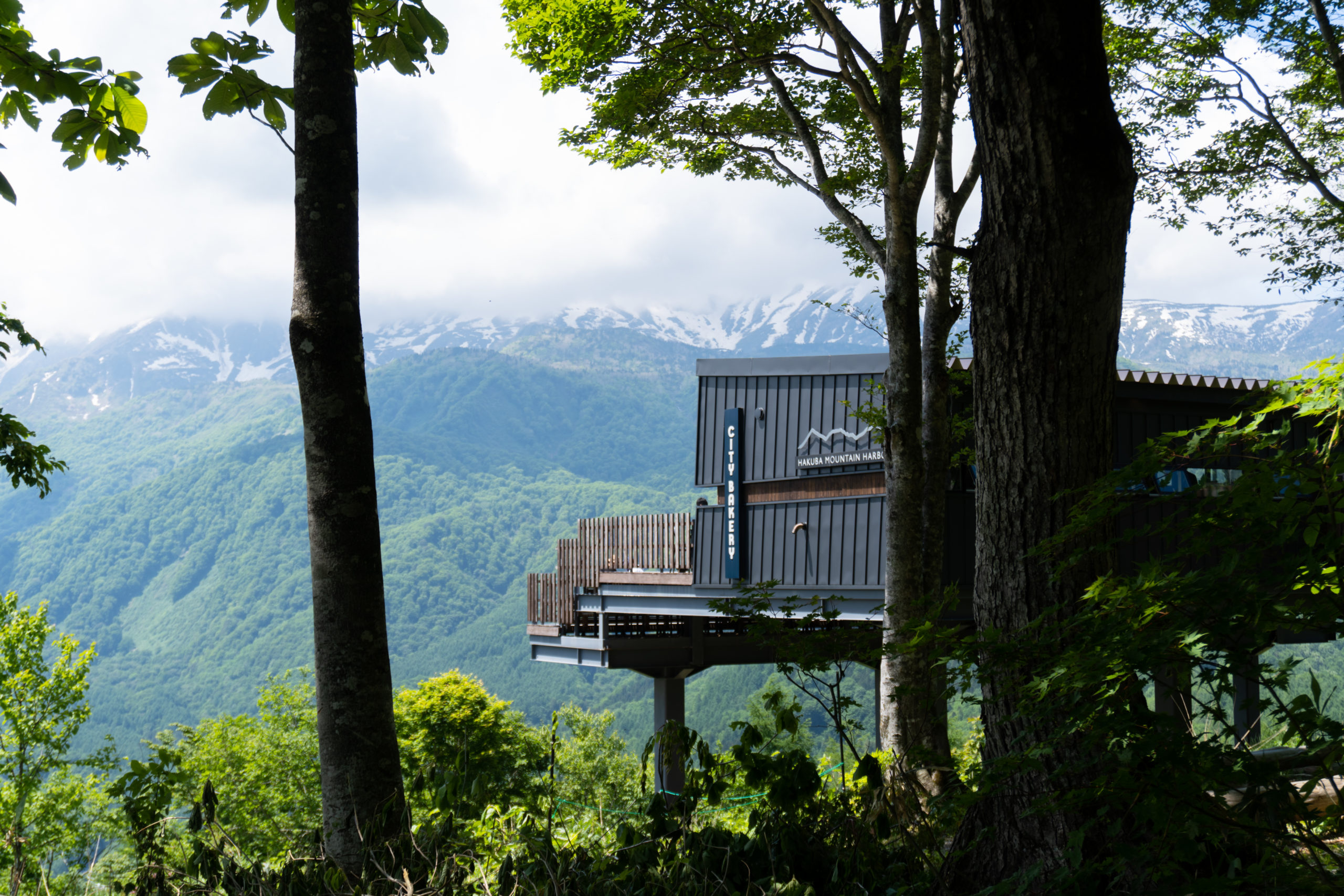 Iwatake Green Park
As you get off the Iwatake gondola a peaceful sitting area with canopy tents and lounge chairs awaits.  Relax in the calming atmosphere as you gaze over the Hakuba Valley 500m below. Be careful, you may even find yourself nodding off in the cool summer breeze.  Head to the shaded area past the Sky Arc building to find hammocks and more sitting areas as well as swings and slacklines for those looking for a little more action.  The area has been set up for remote work with wifi and power; make the mountains your own personal office.  Tables and sitting areas can be reserved for private use.  Call 0261-72-2474 to reserve.
Nezuko no Mori
Nestled in the trees at the top of Iwatke is Nezuko no Mori (Cypress Forest).  The walking paths and children's play areas offer a secluded retreat from the sun and a delightful nature experience.  There are several walking routes available offering 20 min, 40 min, and 2-hour loops.  Guided tours are also available.  Read our article about hiking in Hakuba.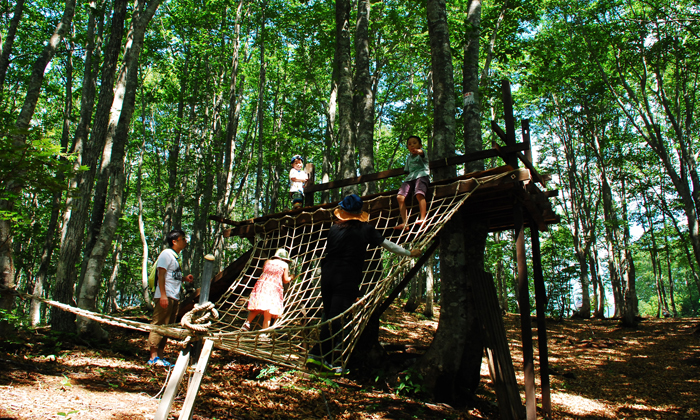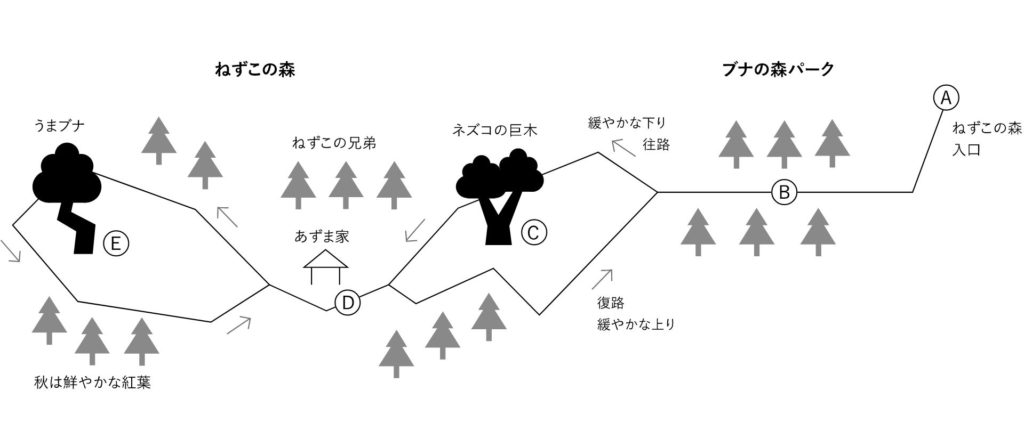 Hiking Times
A-E: One round of Nazuko's forest

1 hour 30 minutes / 1.2 km

A-D: To Azuma Homes

About 40 minutes / 800 m

A-C: Up to the big tree of Nezuko

About 20 minutes / 500 m
Guided Tour Times (Reception at Sky Arc)
Guided Tour Rates
60 Minute Tour – (Adult 1,000 yen, Child 500 yen)
120 Minute Tour – (Adult 1,500 yen Child 1,000 yen)
Yahoo Swing
Add a little thrill to your visit to the top of Iwatake with a ride on the Yahoo swing.  Built on the edge of a ski lift off-ramp, the Yahoo swing offers both a thrill and spectacular views of the Hakuba Valley.  As you build momentum the swing takes you out over the edge of a 10m drop, giving you the feeling of flying above the valley below. Be sure to give your best yodel to let Hakuba know you are here.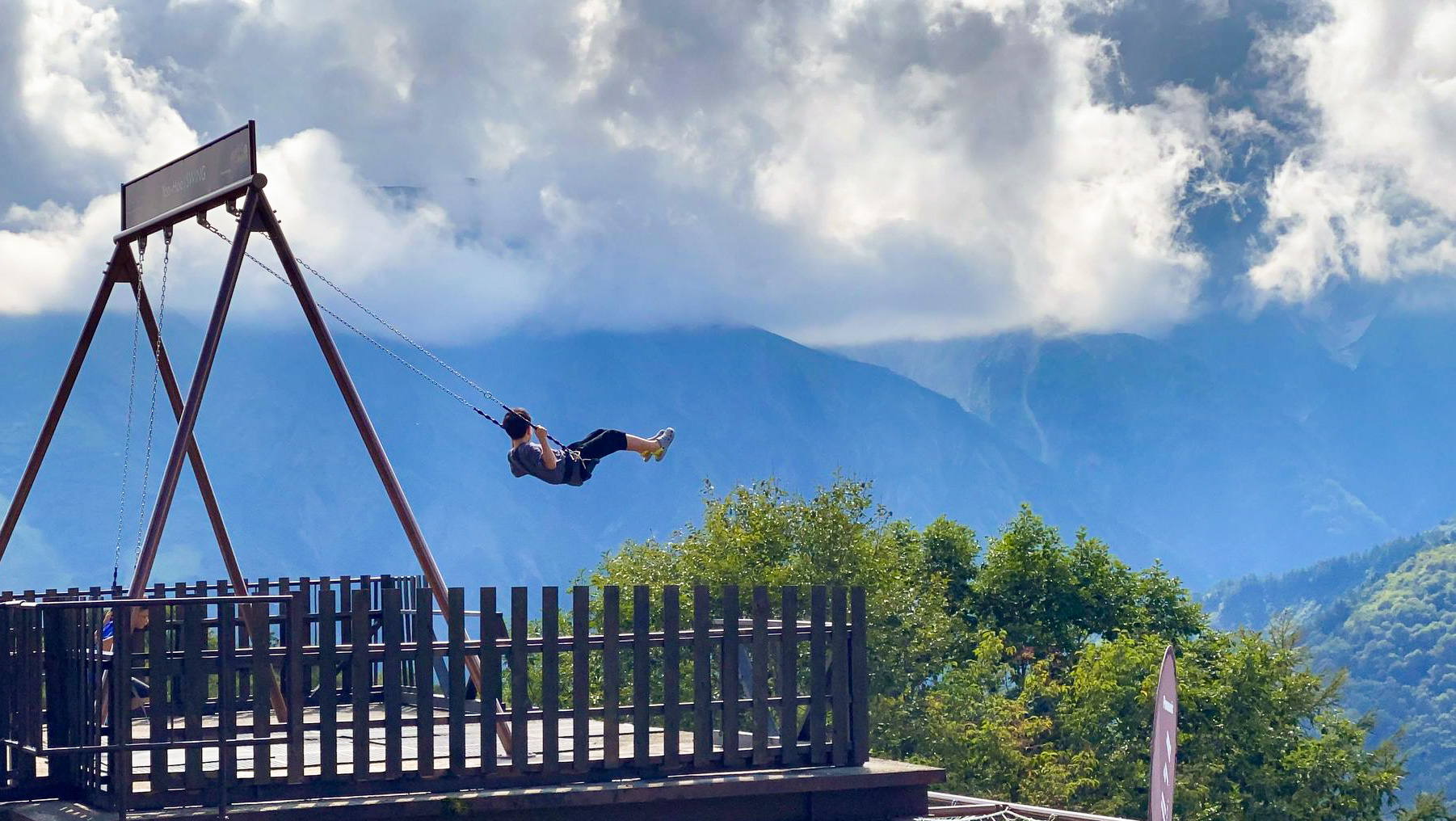 Business Hours (April 29th – November 14th)
Rates
Iwatake Mountain Bike Park
Iwatake has the best lift-accessed mountain biking in Hakuba Valley hands down.  Charge down one of Iwatake's downhill courses and experience the thrill of a lifetime. Opened in 2015, the Iwatake MTB Park has 6 courses, ranging from beginner pump tracks to downhill routes with over 520m of vertical.  At the base of the Gondola Spicey Rentals has all of your bike and safety gear rental needs and Evergreen also offers tours and training courses.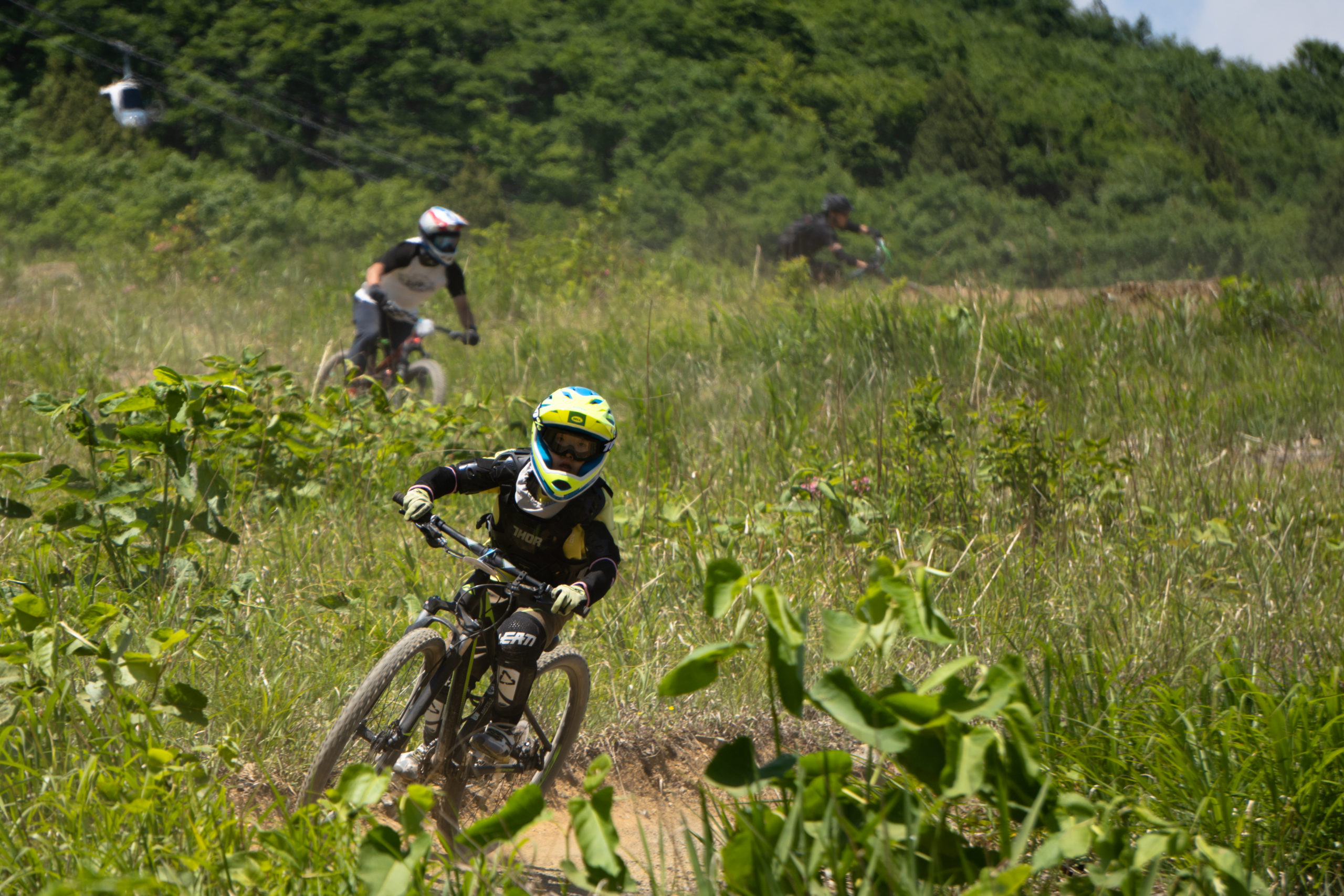 Business Hours (Apr. 29th – Nov. 14th)
Rates (Lift Incl.)
Day Pass –  (Adult 4,500, Child 3,200)
Season Pass –  (Adult 41,000, Child 25,500)
3 Tickets – (Adult4,200, Child 2,800)
2 Tickets – (Adult 3,600, Child 2,200)
1 Tickets – (Adult 2,100, Child 1,500)
Hakubounce
Welcome to Nagano Prefecture's largest trampoline park! Bounce, Jump and even somersault your day away in this family-friendly facility. There is no better way to have your kids burn off some energy on a rainy day than at Hakubounce.  With over 20 trampolines, ball pit, airbag, and bouncy soccer field you and your family will have a blast!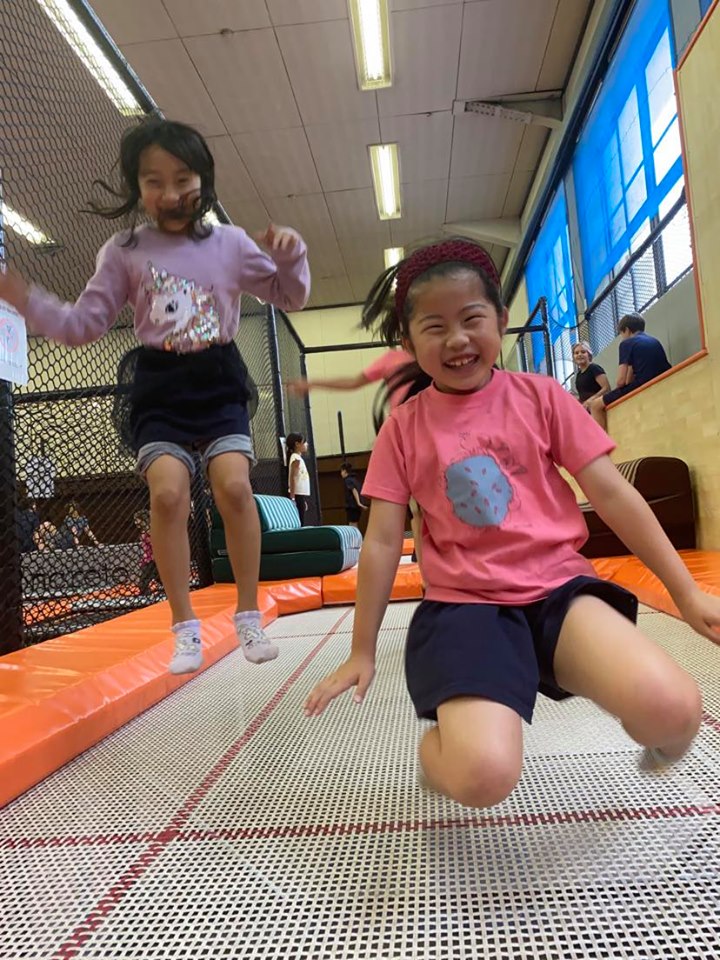 Rates
15 minutes: 500Yen
1 hour: 1,800Yen
Free time (Weekdays 3:00PM – 7:00PM): 2,300Yen
Season ticket: 22,000 Yen
Business Hours
Weekdays 10: 00-18: 00 *Reservation Only (10:00 to 14:00)
Saturdays, Sundays, and holidays 10: 00-18: 00 *Closed on Tuesday
Hakuba Ex Adventure
Challenge yourself and the whole family to an exciting adventure in the trees at the base of Iwatake.  This ropes course will thrill you as you swing and zip-line through trees.  The 2 rope courses will keep a smile on your face as you navigate the obstacles.  Once you have mastered the ropes courses head over to the EX Coaster where you suspend yourself below a hanging rail.  Like a zip line on steroids, the EX coaster weaves you in and out of trees and over and under drops as you speed down the rail above your head.
Business Hours
9: 00-17: 00 (16:00 last reception)
Rates (Full Course)
Adults 5,600 Yen Children 4,600 Yen
Family ticket A (2 adults + 2 children) 18,000 Yen
Family ticket B (2 adults + 1 child) 14,800 Yen
Rates (Basic Course)
Adults 4,600 Yen Children 3,600 Yen
Family ticket A (2 adults + 2 children) 14,000 Yen
Family ticket B (2 adults + 1 child) 11,800 Yen
Other Iwatake Activities
Dog Run– Iwatake is not only for people it's also for your furry family friend.  Take man's best friend's with you on the gondola and enjoy the dog run area at the top (keep your eye's open and camera at the ready as they often run doggy photo contests, with great prizes)
TeleWork Opportunities – Iwatake has established some remote working locations at the top with free Wi-Fi and power.  Why spend a day in the office when you can spend it at Iwatake.
Mid-Mountain Camping – Why not camp in the middle of the mountain with a luxurious view overlooking the Japanese Alps. There is also a lounge, and power on-site, so you can enjoy a comfortable camping experience.
Iwatake Onsen – Relax in Iwatake's own onsen located across the road from EX Adventure.  Read our article all about the Health Benefits of an Onsen.

Iwatake Restaurants
Gondola Top
City Bakery – The city bakery offers premium coffee, sandwiches, baked goods, and the best view in Hakuba.
Hakuba Deli – Hakuba Deli is found in Sky Arc, and offers locally grown and sourced meals.
Base Area
Holiday Ramen Shop – This small ramen shop located across the road from the Iwatake gondola offers great Japanese-style ramen.

MomoChan Crepes – A must-try on your visit to Hakuba, MomoChan's vivid pink trailer across from the gondola is hard to miss.  Your sweet tooth will thank you for finding it!
Shinden Area
Shoya Maruhachi – This beautifully decorated, traditional Japanese restaurant offers a lovely dining experience.
Hana Emi Cafe – Opened in 2021 Hana Emi Cafe offers a pleasant atmosphere and tasty food.  The portion sizes are huge, and the food is to die for.
Iwatake Summer Accommodation
The base of Iwatake is surrounded by traditional family-run ryokans.  The area is known for its Japanese-style accommodations and Japanese atmosphere.  Nightlife in the area is more limited and most accommodations offer breakfast and dinner included in their stay.  We recommend considering the area of Shinden, a quaint area a 5-minute drive from the base of Iwatake.  The area offers a variety of ryokans, both traditional and modern as well as some newer self-contained apartment-style accommodations.  The area has more evening dining options than the base of Iwatake where most restaurants shut down when the lifts close.