Hakuba Goryu Ski Resort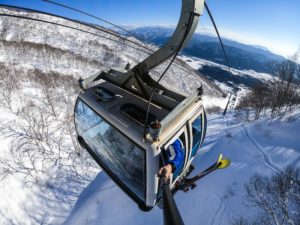 About Hakuba Goryu Resort
Located at the Southern end of Hakuba Villiage Hakuba Goryu Ski resort offers great beginner and intermediate terrain. The gondola from the base provides access to the upper mountain where the top can then be reached by multiple pair lifts.  Goryu is generally an intermediate/beginner level mountain but, does have a long black run, that is usually heavily moguled and some tree skiing areas for those in the know (purple shaded area on the trail map). The beginner area at the bottom is a wide, gentle slope and is an excellent place to learn how to ski.
With 16 courses and 13 lifts and 726 meters of vertical the resort is modest in size. This is off-set by the fact that Goryu, Iimor and Hakuba 47 are all connected and all use the same lift pass.  Passes do require a 500 yen deposit on purchase, which can be recovered at the end of the day at any of the ticket offices.  You can purchase your Hakuba ski pass in advance by clicking the link.
Off-piste skiing at Goryu is not allowed and will result in a cut pass and while the terrain below the gondola is tempting, this is considered a no-go zone as a release would result in an in-resort avalanche over highly trafficked green terrain.  There is also side-country available but we recommend going incognito for any trips.  For more information about backcountry skiing read our interview with Bill Glude, one of Hakuba's backcountry guiding Legends
Goryu, Iimori and Hakuba 47 combined make for a great overall mountain experience.  To find out more about the other resorts check out our pages on Hakuba 47 and Iimori.
Resort Facilities
Goryu has 2 main facilities on the hill – Hakuba Goryu Able Plaza and the Alps 360 restaurant.
Goryu Able Plaza
Able Plaza is located at the base of the mountain and is a full-service facility with restaurants, rentals, and shops.  Of note are the Burton shop, the 500 Mile ski shop (boot fitting and gear repair), and of course Subway for all those craving a taste of home.
Alps 360 Restaurant
Located at the top of the Goryu Toomi Gondola, the Alps restaurant offers your standard Japanese ski resort fare (rice bowls, katsu curry  etc.)  The food quality and prices are reasonable and there is also free water for thirsty skiers looking to warm up and refresh.

Hakuba Goryu Ski Schools
There are 3 ski schools affiliated with Goryu ski resort offering lessons in English, Chinese and Japanese.  Hakuba Goryu  Ski School is the official ski school of the resort and offers both ski and snowboard lessons in Japanese.  Hakuba Snow Sports is the English ski School at the resort and is based out of Iimori.  Hakuba Dragon Ski School offers lessons in Chinese.  Be sure to check out our article about ski lessons in Hakuba and find out what ski schools are in Hakuba and what they offer.
Hakuba Goryu Accommodation
There is limited on-hill accommodation at Hakuba Goryu.   Most lodgings are located a short distance from the base of the mountain and require a walk or shuttle in order to reach the slopes.  Accommodation options range from budget hostel options to higher-end hotels.  Nightlife in the Goryu area is more limited, Concrete and Tracks are bars in the area that offer apres and nighttime fun. If however, you are looking for a night on the town, be prepared to taxi yourself to and from Happo or Echoland where the nightlife is more vibrant.