Hakuba Happo One Summer
About Happo One Summer
Translated into English Happo One means 8 cardinal directions, and represents the ridgelines of Mt. Karamatsu (the peak above Happo).  Happ One and is one of the valley's access points to hiking Hakuba's peaks.  Using the gondola and upper lift (Grat quad),  hikers can easily access hikes to Happo Ike (Happo Pond) as well as Mt. Karamatsu.  Happo One usually has 2 mountain areas open in the summer, Usagi Daira located at the top of the gondola and the Kita One Highland accessed from the Sakka quad.  This year Happo will not open Kita One Highland.  Along with great hiking, Happo also opens the Mountain Beach area at top of the Gondola is also quite literally a jumping-off point for paragliding.


Happo One Summer Activities
Happo One Hiking
The gondola and lifts at Happo allow easy access to some great day hikes.  Happo Ike is a favorite for those looking for a short trek along well-defined trails.  Happo One is an hour hike from the top of the Grat quad and is a great spot for a mountain lunch.  The pond is a favorite for hikers all season and is a definite must for anyone looking for some fall foliage photos.
For hikers looking for a more of a challenge, you can continue to hike above the pond to Karamatsu dake, the peak above Happo One.  From Karamatsu, you can head back down or traverses across the ridges to the north or south of Happo where there are a series of trails and huts.  To find out more be sure to read our article about Hiking in Hakuba.
Happo One Paragliding
Sky Blue Paragliding school at Happo One is one of the largest in Japan.  Found at the base of the Nakiyama slope the school offers tandem sightseeing flights where you fly with a professional pilot, as well as paragliding licensing courses.  Taking off from Usagidaira, experience the ride of a life-time as you fly over the beautiful Hakuba valley.  No prior experience is required for tandem flights, just a desire to see the world from a new and exciting perspective.  You can book lessons in english on the Sky Blue Paragliding School site.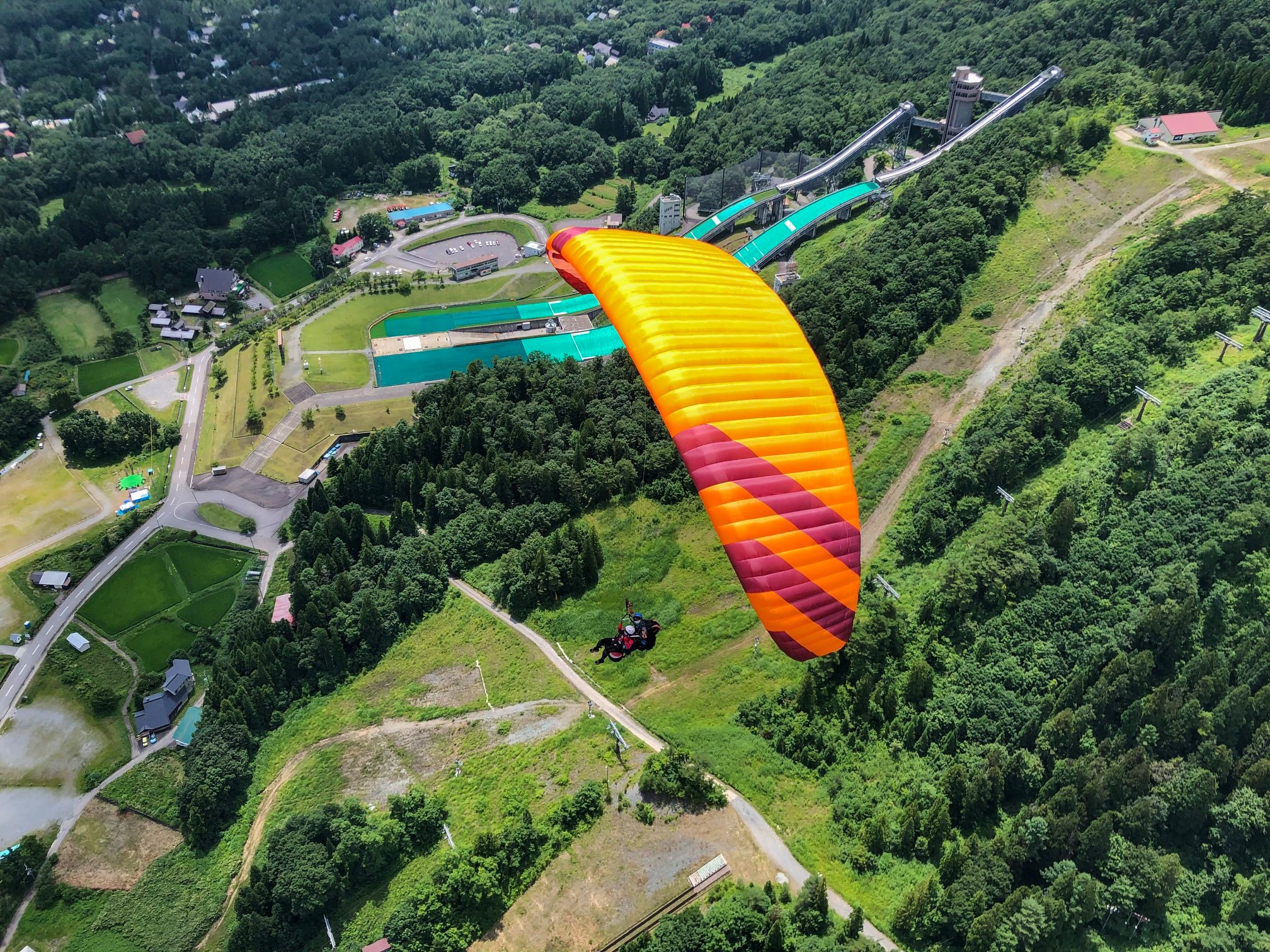 Happo One Mountian Beach
Why not combine Japan's love of summer beach travel with the beauty of the Japanese Alps.  Happo One built Mountain Beach in 2019 to do just that, with saunas, spas and a beach vibe, all at an elevation of 1,400m.  Complete with lounge chairs jacuzzi's and gondola saunas (you read it right) forget Okinawa, head to Happo and show off that beach bod.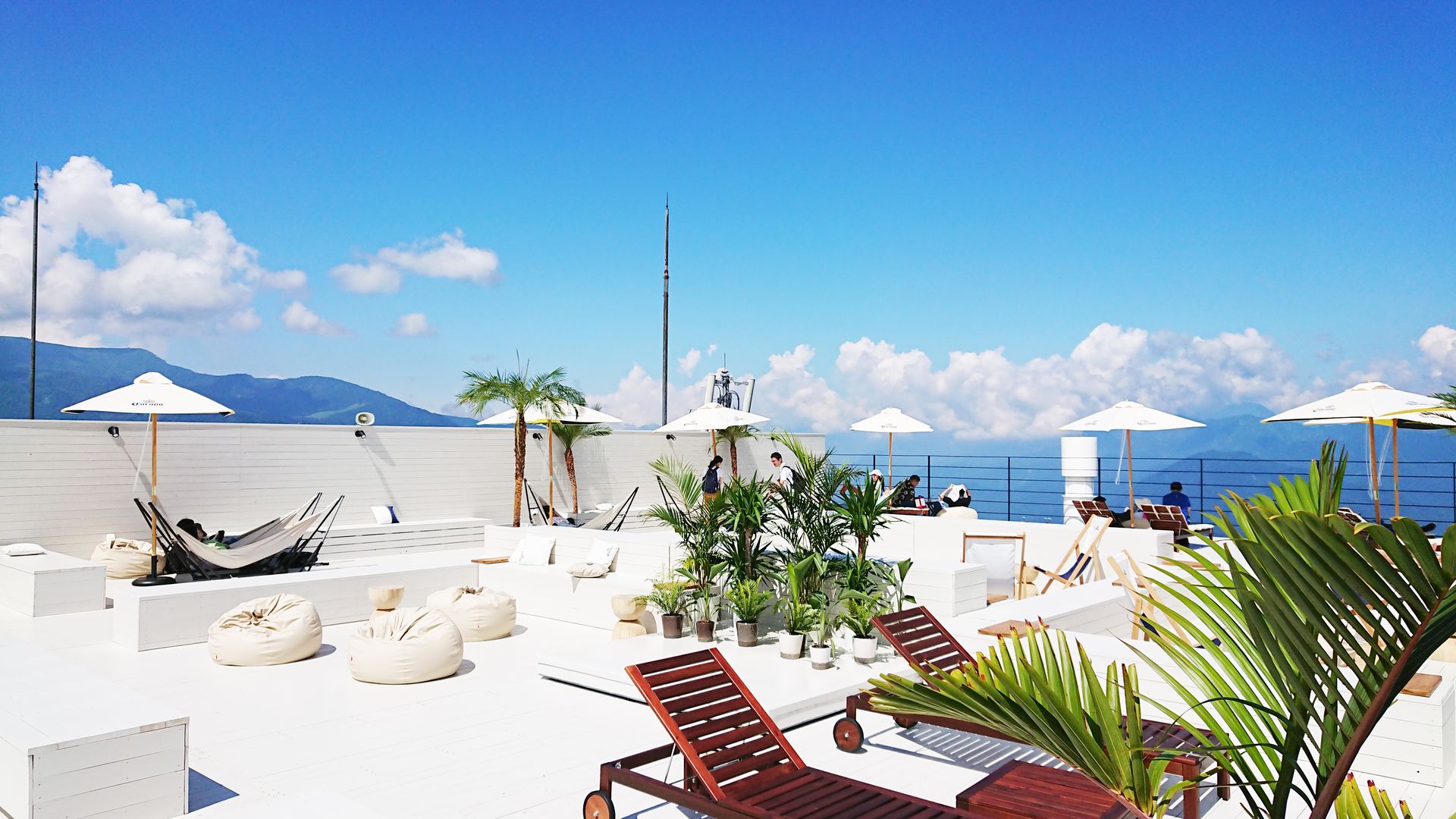 Happo One Summer Restaurants
Trattoria Primo Pizza & Pasta – this pizza and pasta restaurant at the top of Usagidaira offers beautiful mountain views

Hakuba Mountain Beach

– Not only a place to lounge, they also offer an original menu using many local ingredients

Cafe & Restaurant Pilar

– At the top of the Alpen quad enjoy delicous one-of-a-kind dishes using local ingredients.  Read our interview with Pilar's head chef

Happo One Accommodation
The Happo area is often thought of as the heart of Hakuba and as such offers a wide variety of traditional Japanese ryokans and western accommodations.  For those looking for larger western-style hotels, consider the hotels in Wadano (near the sakka base).  There is also an abundance of dining options throughout Happo that are open during both the winter and the summer.
Happo Onsen
Happo Onsen can be found across from the Happo Bus terminal and is one of the larger more popular onsens in Hakuba.  An onsen after a hard day in the mountains is a real treat, your body will thank you for it.  Find out the health benefits of an onsen.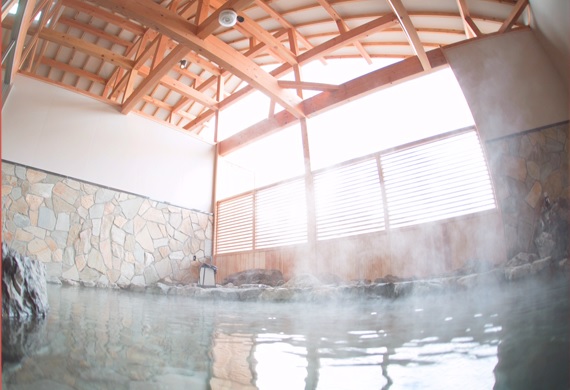 Rates
Adult: 800Yen
Child: 400Yen
Business Hours