Events Hakuba were lucky enough to do a few park laps at Hakuba 47 Ski Resort with Icelantic Japan sponsored pro-rider and Olympic hopeful, Ruka Ito. Check in on his 2022 Olympic slope style and big air dreams in the video below (scroll to bottom). We were also invited to the brand new Icelantic Skis Japan base in Omachi, Nagano and sat down with COO Yu Arai for an exclusive interview and video segment. Take a look at the article to see what's hot with Icelantic Japan.
↓↓↓Watch Olympic Hopeful Ruka Ito absolutely smashing it in the park at Hakuba 47 Ski Resort!↓↓↓
February 29th, 2020 | by Jared Kubokawa
Icelantic Skis are on a mission to #Return to Nature and nothing epitomizes that more than their brand new base here in the Northern Japanese Alps of Nagano. It's refreshing that Icelantic Skis, which are handmade by skiers in Colorado and literally bombproof, have decided to make their base in Omachi, the southernmost edge of the Hakuba Valley. 
Icelantic Skis Japan could have easily chosen Tokyo or Osaka, someplace close to a large population and an airport; a more convenient location to import/export skis. But they didn't. They chose teeny tiny Omachi—a rural Japanese village with less than 28,000 people and five hours from any international airport. There's no doubt about the location though—smack bang in the heart of the Japanese alps. 
During our sit down at Omachi Base, I asked COO, Yu Arai, why Icelantic chose the picturesque Japanese hamlet, "well, we actually sell skis, so what better place to try them out than right here in the J-Alps (Japanese Alps)." And he couldn't be more right. There is a rack of demo skis out front and Icelantic Japan encourages people to grab a pair, shred the gnar for a day and see if they catch your fancy—you can't do that in Tokyo, now can you?
Of course, Hakuba is a year-round travel destination for most Japanese but many of our western readers will know it as simply the steepest and deepest skiing in all of Asia. Both are true and here at Events Hakuba we are stoked to have Icelantic Japan in the valley. We live here year-round and so it's awesome to have a progressive-leaning local company like Icelantic that offer a different perspective than some of the larger ski conglomerates out there. You can see from their videos that their belief system is very much in line with slowing everything down and getting out there to enjoy the mountains for what they truly are: epic.
Icelantic encourages people to turn off, tune up and drop in to some of the rowdiest terrain on some of the sickest skis on the planet. And they are definitely true to their word. Icelantic has carved out a niche in the freeride market with their extremely light, poppy and durable Nomad 105. This ski has won many skier's choice awards and is their flagship model. They also carry a female counterpart called the Maiden; Icelantic has upped the game in the world's women's ski market with their hard-charging yet playful planks with models that are specifically geared for female riders. Icelantic also carries a number of other models (for both men and women) including freestyle, all-mountain and backcountry skiers. Stop into their Omachi base and try them out anytime.
And they aren't just selling incredible skis people—they are making the industry something better. Icelantic sponsors not only epic skiers, but also photographers, artists and get this…a free-heeler. I mean, who sponsors telemarkers  these days? I'll tell you who, Icelantic Skis Japan; In his off time Hiroshi Sato is a DIY ski builder and on other days, he can be found in the backcountry freeheeling away on his Icelantic skis. Now, everyone knows that telemarking is not exactly the coolest way to get down the mountain but it is, in fact, one of the most difficult and traditional. One thing is for sure, it's definitely a #returntonature. Combining Alpine and back-to-nature Nordic skiing, telemark skiing or "free-heeling" has a small and extremely dedicated group of followers. It's quite unique for a ski company to really put there money where their skis are and sponsor a telemark rider like Hiroshi.
Moreover, Icelantic gladly sponsors Hakuba local riders such as the sixteen year old big air and slopestyle olympic hopeful Ruka Ito. He grew up in the Hakuba Valley with snowboard instructor parents and spends nearly everyday in the park at Hakuba 47 Ski Resort. As we spent the afternoon with him, we watched him mingle with the other riders in the park and even hand out free pointers to the kids (he himself is only 16!). It was apparent that the park at 47 is basically Ruka's living room. By sponsoring Ito, Icelantic is investing in the future of the ski industry as well as the local Hakuba riding culture.
It's easy to feel good about buying Icelantic's skis, not only for their awesome shredability, but like spending a bit more on Fair Trade Coffee, they are a company that follows corporate responsibility and adds to local culture rather than sterilize and monetize individual artistry both on the slopes and the canvas; All of Icelantic's ski laminate designs are created by visual artist Travis Parr and have been for the past ten years. Icelantic actually sponsors him so that he can create art on a full time basis. Yes, ski companies can support the arts; and, no, skis don't always have to have skulls, naked women and bad puns on them.
With Icelantic, it's not simply about earning turns, but rather it's about returning to our roots as human beings and gaining a bit of perspective on the hustle & bustle of living in a world of virtually unlimited high speed instant everything. It's about meditating on what we value as important in this world and about checking things out for yourself. It's about you and your take on mountain life. And what better way to check the mountains out than on a pair of Icelantic skis.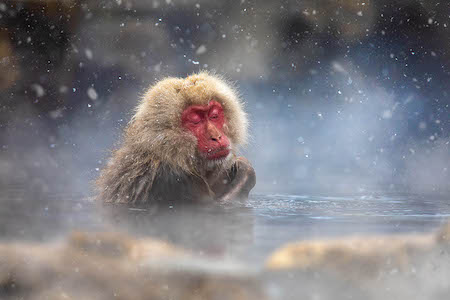 ↓↓↓Watch our exclusive interview with Icelantic Japan's COO Yu Arai. ↓↓↓
Have you ridden Icelantic Skis yet? Tell us what you think by leaving a comment below. Have a great holiday from us here at Events Hakuba.