With wide-open spaces, cheap prices, lots of activities, cherry blossoms and fresh snow at the top―Hakuba is the place to be during the 'golden week' holiday in Japan.
March 13th, 2020 | by Jared Kubokawa
No Crowds and Beautiful Nature
Golden week is basically a series of holidays that all happen to fall in the same week during late April and early May. So why fight the crowds in the cities when there are a plethora of activities in the beautiful and quiet outdoor sports haven that is Hakuba, Nagano?  May is a great time to visit because many of the higher elevation ski resorts are still open for spring skiing, yet down in the valley the green season has officially taken hold: you get the best of both worlds. The downhill mountain bike course as well as the Ex Adventure ropes course are both open at the Iwatake Snow Resort base area. Additionally hiking in the valley is always a gorgeous option and if you time it right. The Himekawa River Headwaters Nature Park (Himekawa genryu) is a must see at springtime and is just across the road from Hakuba Sanosaka Ski Resort. Look out for wild wasabi, loads of wildflowers and critters galore at the river's natural source that literally springs from the ground.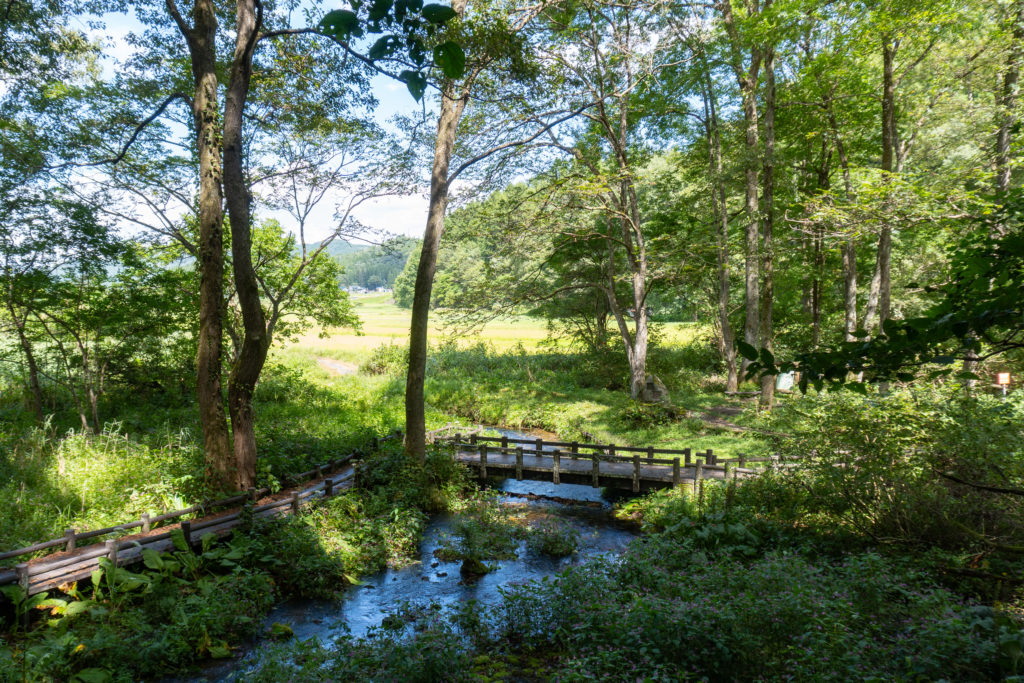 Cheaper Accommodation and Restaurant Prices
By now, the peak season has well passed and most of the hotels and ryokans are just getting ready for summer so there are loads of shoulder season deals to be had. We recommend checking in with hotels directly via email to see what deals are available, such as Ryokan Gozu. Moreover, there is no need to fight for bookings at local restaurants. Basically, apart from the locals, you'll have the place to yourself so feel free to indulge in the local delicacies. Outdoor sunny coffees or boozy brunches are always a delight. Hit up Sounds Like Cafe or Penguin Cafe. Make sure to hit up the plethora of Japanese hot springs (onsen) in the area as well to have a relaxing soak all to yourself. We recommend the Highland Hotel Onsen for the best views in the Hakuba Valley.
Sunny Spring Skiing and Snowboarding
While there may not be epic pow days in May, there is still plenty of terrain to shred as well as lots of sunshine to take in. Happo One Ski Resort has a top elevation of almost 2,000 meters and there are areas that keep snow year-round if you're willing to hike up a bit further. Happo, Tsugaike and Goryu/47 usually stay open until Mid-May, so this is your last chance to get some turns in before the season finishes. Spring skiing has always been super warm, super fun and super stress-free with virtually no lift lines and lift tickets are discounted to boot.
Sakura, Sakura, Sakura
Of course, sakura means cherry blossom in Japan and these trees are a national obsession and the practice of sitting under these said trees and gets absolutely pickled in a centuries old tradition called hanami.  Now, don't get us wrong, it's not all about the booze, there is almost always a picnic with a BBQ, friends on a blanket, an out-of-tune guitar and sunshine warming the skin. But the beauty and the countless photo opportunities are what bring people out year after year to view these delicate and incredibly gorgeous flowering trees.
There you have it―Events Hakuba's reasons why you should come to Hakuba for golden week.  But what have we forgotten? Comment below and tell us what else there is to do, or about your experience in the shoulder season in Nagano. Until we meet again, mata ne!

For all Your Renta Needs
Mention Events Hakuba to get a Discount