December 19th, 2020 | by Jared Kubokawa
Hakuba is closer to Tokyo and therefore travel is cheaper.
Location. Location. Location. Hakuba is on the main island of Honshu, so it's just a 3-4 hour train or bus ride away from Tokyo and Narita International Airport. This makes the journey quicker and cheaper. Niseko, on the other hand, is up on the northernmost island of Hokkaido requiring a second domestic flight from Narita or Kansai, or a very long bullet train journey of 9 hours. Although, this year, Qantas has opened a seasonal direct flight from Sydney to Sapporo—the budget airline flights to Tokyo are still much cheaper.
Hakuba may get less snow but it's certainly steeper.
Niseko may be deep but Hakuba is steep. What to do with all that Niseko white gold if the pitch is too shallow to ride it? Fact: Hakuba is in the Japanese alps, alps are tectonic mountains caused by faulting. Niseko is a stratovolcano which was formed by the build up of continuous eruptions. The Japanese Alps in Hakuba are steep and have a true alpine climate. Niseko is a simply a volcano, albeit in a very snowy location. The steepness and variation in terrain is what brings the Freeride World Tour (FWT) to Hakuba every year. This keeps it on par with other classic big mounntain destinations on the tour such as Kicking Horse (Canada), Ordino Arcalis (Andorra), Fieberbrunn (Austria) and Verbier (France). Travis Rice, Tanner Hall, Marion Haerty, Markus Eder and the rest of the FWT participants can't be wrong.
There are more bluebird days in Hakuba.
As stated, Niseko gets more snow—snow is formed by clouds; thus, it's rarely sunny in Niseko and "Japanuary" can get quite gloomy after awhile. On the contrary, Hakuba has the best of both worlds, plenty of bluebird days and plenty of snow. Most people long for that perfect combination of overnight powder and waking up to a perfect blue sky. The holy grail: Bluebird Pow Days. And in Hakuba, you just might get it.
Hakuba is quieter and therefore has less crowded slopes.
Hakuba has fewer foreign visitors than Niseko, therefore less crowding on the slopes. Also, there are more resorts in the Hakuba valley than in Niseko which thins out the crowds. Some might argue that there are quite a few Japanese weekend warriors coming to Hakuba from Tokyo and while this might be true—that would only be on a Saturday or Sunday, leaving the rest of the week open for long cruisey slopes all to yourself.
There's more of a Japanese experience in Hakuba.
Niseko is a new resort town that came up with the boom in the 1980s and has some glamorous spots. Sure, you can drop a bomb if you really want and stay at glitzy hotels and eat in 5-star restaurants but that's a bit heavy in the ol' wallet department. While Hakuba has its fair share of glitz and ritz, for the most part, it's an old ski town (1958) built up over the years by small Japanese businesses. There are literally hundreds of little ryokans (Japanese inns) and restaurants where you can get a real cultural experience; not to mention all of the temples, shrines and cultural festivals such as the Happo Fire Festival.
There's easier access to sightseeing (and other resorts).
About an 1-2 hours from Hakuba are such cultural sites as Matsumoto castle, Nagano's famous snow monkeys, hundreds of shrines and temples and of course the Sea of Japan. Also, a traveler can easily fit Hakuba into a larger sightseeing trip of Japan as it's just 4 hours from Tokyo and 5 hours from Osaka/Kyoto. Niseko is much farther removed being on the northernmost island of Hokkaido. As far as traveling to other resorts—Hakuba has it in the bag. In Nagano alone, there is an additional 92 ski resorts outside the 10 in the Hakuba Valley, as well as hundreds in Niigata, Gunma and Gifu which are all quite close. Should you feel the need to take a road trip, Myoko Kogen, Shiga Kogen and Nozawa are recommended and all about an hour's drive from Hakuba or a quick ride on the Nagano Snow Shuttle.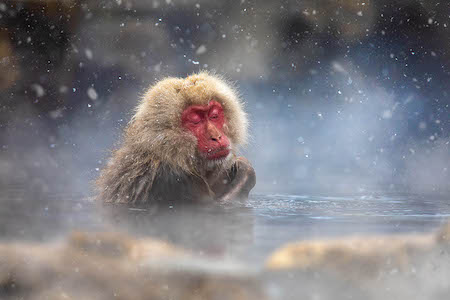 The Food: Fresh Seafood, Hida Beef, Shinshu Soba and the Hakuba Brew Pub
Hakuba is just 45 minutes to Itoigawa, a port city on the Sea of Japan which is famous for its daily catch of fresh seafood. More so, Nagano is famous for its soba noodles and nearby Hida beef from Gifu. Hida beef is Kobe beef's little brother and is still Wagyu which means the cattle are massaged daily. And if that's not enough, the local beer from the Hakuba Brewery Company is the icing on the proverbial cake. You can grab a cold one at the Hakuba Brew Pub on the slopes of Iwatake Mountain Resort or sit down with the craft beer experts at The Tap Room located in the Panorama Hotel. And if it's distilled grapes you're after try the Fireside Lounge and Wine Bar in the Mominoki Hotel for some of the best atmosphere in the village—literally fireside.
Hakuba is not as cold as Niseko.
With Niseko being so far north, there are great conditions for powder but it gets bitter. Average January temperatures in Niseko range from -2° / -11° Celsius. It's not always easy to keep the kids happy when you're night skiing in below freezing temperatures. Hakuba is of course cold, but quite a bit warmer than Niseko with an average January temperatures between  1° / -7°. The sunny days and less wind exposure make a difference as well. And if it does get cold, at least you can afford the hot chocolate at the hotel.
Longer verticals and more variation in terrain
Skiing the 8km run from top to bottom at Happo One Snow Resort is not only an Olympic tradition, it's a rite of passage. You can even follow the 1998 race course where Austrian alpine legend Herman Meier, first survived a horrific crash to then get up and win 2 gold medals. 20 years on Happo One is still the heart of winter sports in Japan. The playfulness of its various steep exposures, tree runs, moguls, and ridge lines will prove it. And that's just Happo, not to mention the 9 other resorts in the Hakuba Valley.  Not sure which one to choose? Check out our Resort Selector.

If it's good enough for Steve Lee, it's good enough for me!
Australian Steven Lee's ski racing career spans a startling 25 years. He competed in 3 winter Olympic games and is one of only 3 Australians to ever win an Alpine World Cup circuit race. He announces the skiing for channels 7, 9 and 10 and is a bonafide movie star doing stunt skiing for Jackie Chan and James Bond films. Steve has a permanent home in Hakuba where he lives and skis every northern hemispheric winter. You can even go skiing with Steve Lee. If a true Australian sporting legend like Steve comes here every winter, well, I guess we could too.