In German, riesen means giant, enormous, titan, ect, you get the picture. And the Happo Riesen Ski Race has a whopper of a tale to tell. The 74 year history of the race is essentially the history of skiing in the Hakuba Valley. Read below for a retelling of the venerable and lively ski race at Hakuba's Happo One Snow Resort.

January 28th, 2020 | by Jared Kubokawa
A Pioneer of Skiing in Hakuba
Riesen race founder, university professor, ski instructor, backcountry guide, swashbuckler and all-around radass dude, Takayuki Fukuoka (1913-1981) petitioned the Japanese government to hold the first ski race on what is now Happo One's Riesen run in 1947. He moved to the Hakuba Valley shortly before WWII and realized it was the perfect place to 'sumimasend it'. Despite challenging opposition, he persevered and successfully petitioned the local government to create one of Japan's first ski areas at the foot of Mount Karamatsu.  His determination is why we now have what is considered by most the heart of Japanese snowsports—Hakuba's Happo One Snow Resort. Even though the first Riesen Ski Race was held in 1947, Happo One itself didn't become a ski area itself until the following year.

The Reason for Riesen
The Riesen race always was and always will be an open competition available to anyone irrespective of age or gender. This is what Fukuoka envisioned from the beginning and envision it he did. Fukuoka wasn't just the founder of the Riesen ski race—he was essentially the godfather of organized ski resorts in the Hakuba Valley. Before Fukuoka, there were simply ski guides who would take able-bodied visitors into the hills and hike around just to make a few turns. Basically, the same as doing a back country tour with a guide albeit at slightly discounted rates and with no lifts to help.
The Original Airbnb
Before Happo One opened it's first lift for skiing in 1948, the skiing in Hakuba Valley consisted of private guides who essentially ran Airbnbs out of their own homes, called minshuku. A minshuku is basically a bed and breakfast where a guest stays with the family in their home and is also guided around the backcountry for a few days. Truly a fantastic service and great way to get to know the locals and the mountains. Hakuba's hospitality has deep roots and many minshuku still operate in a very similar way.
The Ski Train
A guided ski holiday requires skis and anyone who has brought their own gear to Japan has surely struggled to haul their ski/board bag up and down stairs, through tiny ticket gates and onto crowded trains. Some masochists have even carried a heavy ski bag through Shinjuku station at rush hour (not recommended). In the 1940's skiers' struggles were much the same. During and after WWII, all sports were restricted in Japan, yet skiing was allowed because it was considered 'tactical'. The real problem was getting your skis to the valley. At that time (and now), there was only one way to get skis to Hakuba—by train. But the only people allowed to carry skis on the trains were military ski 'instructors'. Fukuoka himself was an academic and not a military man. After the war, he petitioned Japan Railways to create 'ski trains' to Nagano that were allowed to carry skis in their cargo holds. By chance, during one of his petitions, Fukuoka met the manager of the passenger section, who was also bonkers about skiing, and so Fukuoka was finally allowed to bring his ski equipment to Hakuba, providing planks to the whole valley. Where would Spicy rentals be without him?
Equipment, the Father of Japanese Skiing and t
he Longest Run
The longest recorded time for the Riesen race is 35 minutes and 9 seconds. Bloody oath. But you have to remember that the equipment they were using at the time were bindings of tied leather, knitted boots, wooden skis with no metal edges and one long pole that a skier used like a gondolier which can be seen in the picture below of Theodor Edler von Lerch, the father of skiing in Japan. In order to even participate in the race, a person would have to hike up 1000m carrying all of their gear in said boots. Spare a thought for these guys next time you're about to complain about lift lines.
Hyping It Up!
With all that hiking, Fukuoka needed to stir up some motivation for athletes to enter the first Riesen ski race, so he and his crew went around to local businesses and homeowners asking for donations to be given away as prizes. In the end, the winners received some very interesting gifts for their extraordinary efforts including a bamboo broom, a flag and an old pot. 
Bringing Communities Together
During and after WWII, many rural mountain villages were quite isolated and people didn't travel very much. But the race itself allowed people to come together in a lively atmosphere which was a much-needed respite at the time. Not dissimilar to the Hottest 100 rail jam at Penke with prizes for gettin' jibby wit it. Maybe they won an old pot?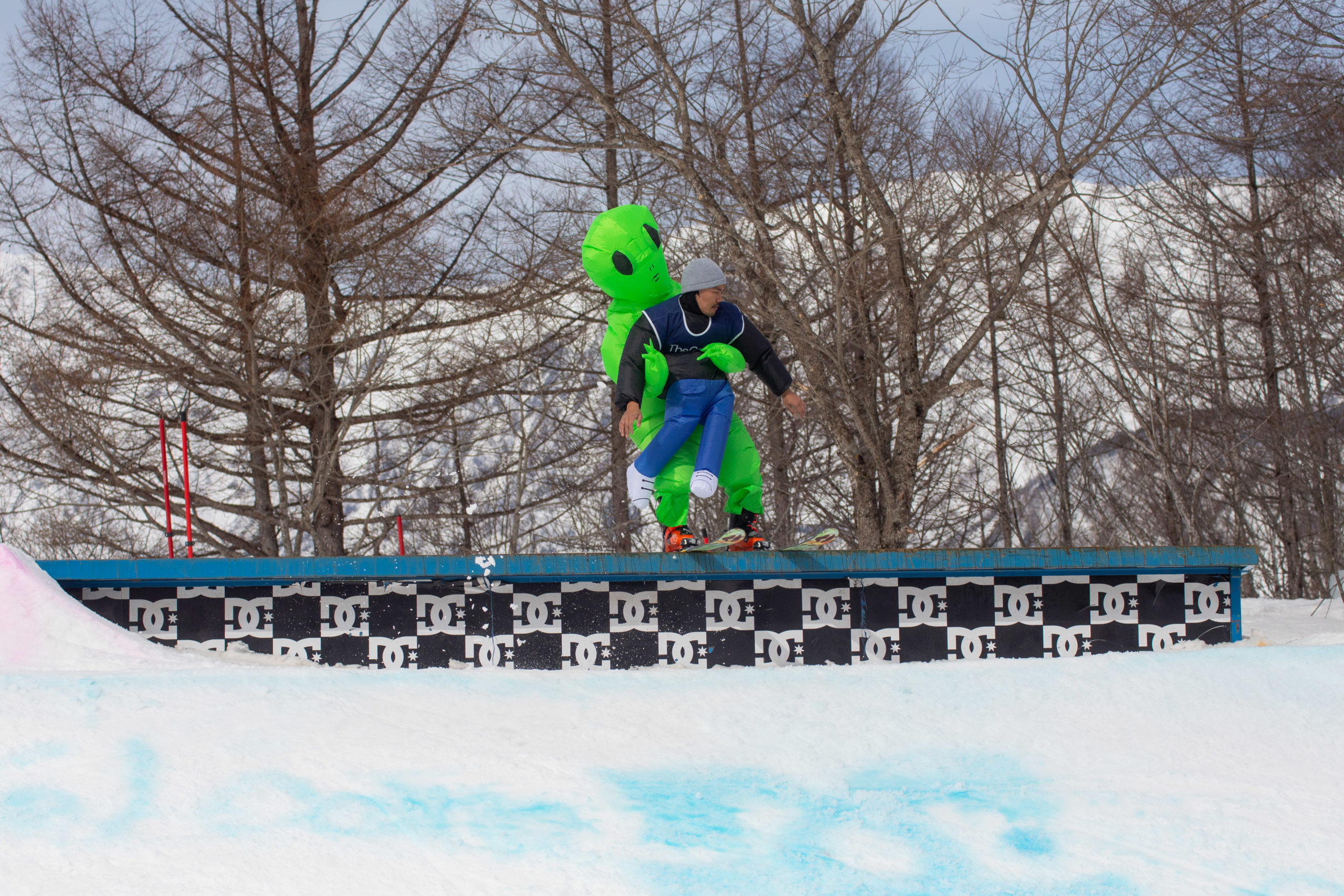 Technology Issues
Further problems still faced Fukuoka in his quest for racing history. In order for there to be a winner, a race needs to be timed. Therefore, there was a judge at the top and a judge at the bottom both with analog stopwatches. Between the two of them, they could roughly gather a competitor's time. The real problem was communication between the judges. With no way to pass score times or to let the next racer know when the course was clear there were often accidents and disputes over winning times. Eventually, they used makeshift telephone lines to communicate between judges which posed its own set of issues, including competitors destroying the lines by skiing over them. Speaking of phones, I lost mine last night somewhere between Recovery and Jack's Bar, if anyone has seen it please send a DM…
Giving Olympians a Start
On the topic of losers and winners, the first ever Japanese winter olympic medalist Chiharu Igaya, who won a silver medal in slalom in the 1956 Olympics in Cortina, the Italian one, got his start at the Happo Riesen race. He participated in the race with his father as a boy but was beaten by other competitors, 'nuff said.
Modern Times
While Igaya may have been in it to win it, the goal for many modern competitors is simply to finish the Riesen race and participation is a reward in and of itself. With that said, last year's fastest time overall was none other than local instructor and shreddy buddy Petra Skalska. Events Hakuba asked Petra why she thinks the Riesen race has been so rad for so long, "Hakuba Riesen race has a long tradition all over Japan. It's popular through generations, people come back every year just to take part in the ski race. That's why it has been running successfully for so long." Petra absolutely smashed it last year, well done girl!
Where to Watch
You can check out this year's ski race starting on Thursday, January 30th 2020 from 9am on the Riesen slope. A good place to watch would be from the Happo One gondola station or anywhere on Riesen. Check back with Events Hakuba for entry details for next year's race. Who knows, you might win the coveted Fukuoka shield. Shred ya later alligator!
You can also check out this GoPro video of the 67th Riesen Race from 2013 to really get into the flow of it.
↓↓↓To watch the video click here↓↓↓
↑↑↑To watch the video click here↑↑↑