Looking to find your way around Hakuba this summer then look no further we have the 2021 summer bus schedule for you.  There are 3 bus lines that all start and end their loops at the Happo information center.  The three lines, differentiated by color, follow the same general loop, but have different stops servicing different areas of town.  The green line has more stops on the South end of town in Goryu and also a stop at the Himekawa head waters and Green Sports.  The blue line offers more stops in Echoland, Happo, Wadano and Iwatake.  The red line has the least number of stops, and appears to be more of an express bus, though it dose offer a stop in Ochikura the furthest north stop available.  Busses run from 8:20AM – 4:40PM.
Hakuba Bus Map and Timetable
The arrows on the timetables show the direction of travel for each bus.  The time between busses is between 10 – 30 minutes.  Busses run daily from July 17th 2021 to August 29th 2021 and weekends/holidays from Sept. 3rd 2021 to Oct. 31st 2021.
Hakuba Bus Routes
Below is a table showing all the bus stops in Hakuba and which busses stop at which locations.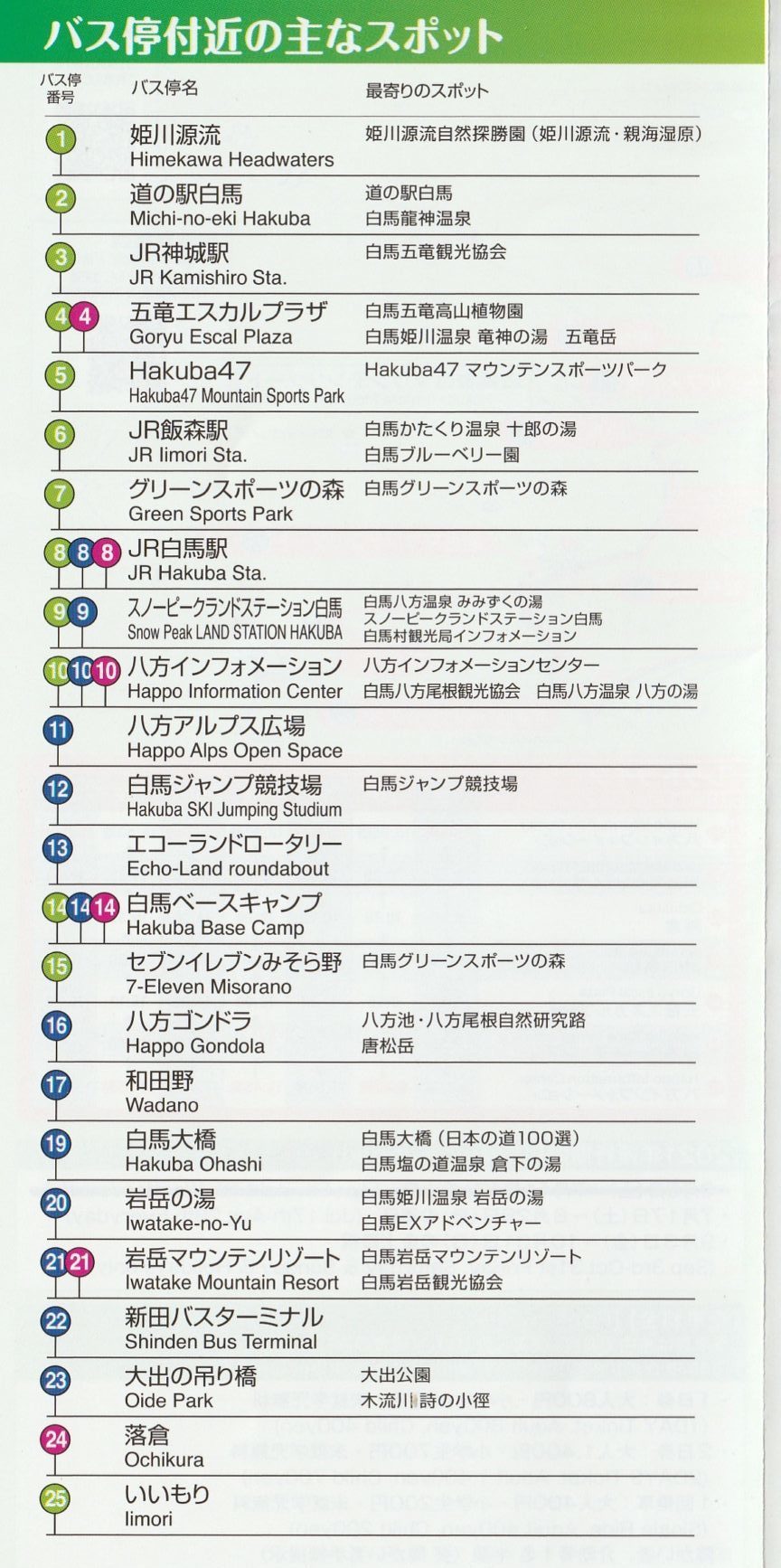 Hakuba Bus Rates
1 Day ticket: Adult  800Yen, Child 400Yen
2 Day Ticket: Adult 1,400Yen, Child 700Yen
Single Ride Ticket: Adult 400Yen, Child 200Yen
If you plan on riding the bus more than once during the day, its worthwile buying a full day ticket.  Tickets can be purchased directly from the driver. (Cash Only)
Hi there! I'm Mike, I love the mountains and the outdoors. I'm lucky enough to live in Hakuba, Japan where, in the winter you will find me out skiing or snowboarding and in the summer hiking the local mountain peaks.